Working at ZipZone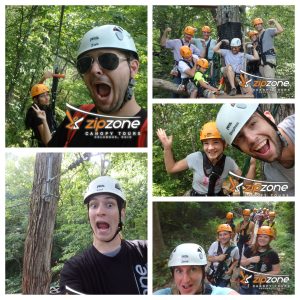 We are looking for outgoing and engaging individuals to join our team.
Thank you for your interest in working at ZipZone. We're looking for fun, motivated, and adventurous individuals to join our team! If you are interested in spending the day outside, high up in the trees with a passion of working with people, you should apply to work at ZipZone. Hopefully, you are willing to go the extra mile for our guests just like we do every day. Any experience in customer service, leading groups, recreation programming, or adventure activities is a plus, but not required.
High Ropes Adventure Park Staff
Adventure Park Monitors are the eyes and ears of the park. Their primary responsibility is to ensure the safety and well-being of all park guests as well as provide assistance and guidance where needed. It is the duty of the Park Monitors to ensure that each guest has an enjoyable and memorable experience.
Adventure Park Monitor Job Description
Zip Line Guides
In order to guide our zip line tours, you must be at least 18 years of age and a high school graduate. We provide the training for all new hires. If you have a fun, engaging personality and a passion for zip lining, please drop us a line!
Zip Line Guide Job Description
Reservation Specialist
As a Reservation Specialist you will be the ambassador of our company's first impressions on the guests and visitors. It is your foremost responsibility to compassionately greet all incoming guests, visitors and members, help them with directions or any appropriate information that they need. You will be professionally answering phone calls in a polite tone and re-directing calls. Also as the Reservation Specialist, you will perform various front desk duties including filing, making reservations, collecting payments, light cleaning, and selling items from our store, etc.
Reservations Specialist Job Description
Join our central Ohio zip line team!
After filling out the application, return it to ZipZone Outdoor Adventures:
Email: lori@zipzonetours.com
If you have any questions please do not hesitate to contact Lori Pingle at lori@zipzonetours.com or (855) LETS-ZIP.