Our fully guided zip line tours are a fun adventure for all experience levels.  Soaring through the treetops, you will enjoy unique views of Columbus, Ohio you would never expect.  Two guides will accompany each group on their tour, taking care of the safety equipment and operating the braking system allowing our guests a hands-free zip line experience.  Our zip line tours create an unforgettable adventure for the whole family.
Our Tours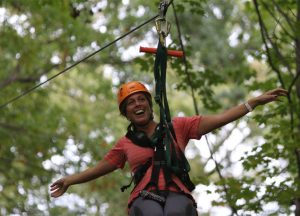 Canopy Tours
2 hours
The Canopy Tour is a fully guided zip line tour allowing you to experience Columbus' natural beauty zipping over 20 acres of forested landscape. With a small group, you'll soar through the treetops from platform to platform, zipping five zip lines and crossing 4 suspension-style sky bridges with your two amazing guides. Your guides will take care of all safety equipment and operate the braking system, allowing guests a handsfree zipping experience. This is our most popular tour option and includes both our longest and our fastest zip lines. Perfect for both first timers and experienced zippers!
Mon-Thurs: $66/person
Fri-Sun: $71/person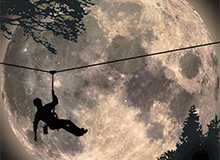 Night Flight Tours
2 hours
Don't miss the chance to zip through the treetops in the dark! This is the same course as our Canopy Tour, but at night!  Including 5 zip lines and 4 sky bridges and is fully guided by two of our amazing guides!  This is an experience like you have never imagined, the Night Flight Tours combine the calm of the forest at night with an exhilarating zip line experience.  This is a great opportunity for a unique date night, or a chance to bond with family or friends.  Check our reservation schedule for available dates for this adventure.
$71/person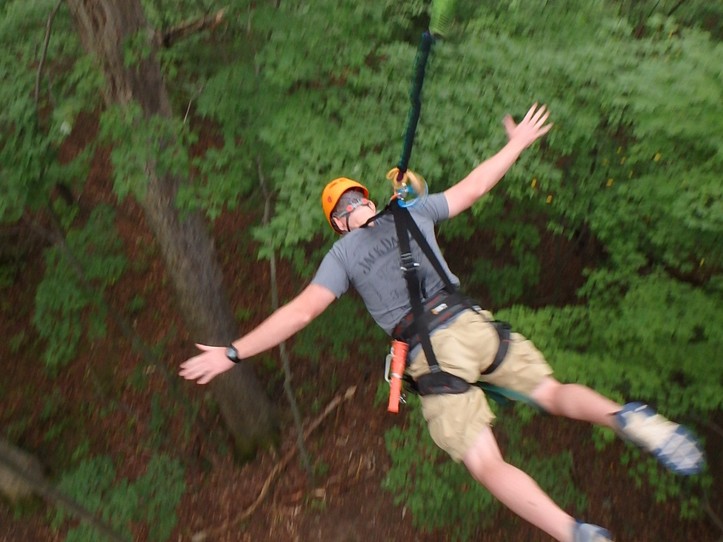 Zip Rush Tours
1-1.5 hours
Featuring two sky bridges, two zip lines and an exhilarating exit!  After crossing the second zip line, you'll find yourself on a platform 50 feet off the ground with a choice of our free fall experience or a guide operated rappel.  Once connected to the freefall device you will step off the platform and experience the sensation of freefall before the system begins to slow you down for an exciting landing.  For a more controlled descent, choose a guide operated rope rappel.  This is a great adventure for thrill seekers who want a quick taste of zip lining!
$46/person
---
Important Details:
Participants must be at least 7 years old and weigh at least 50lbs and no more than 270 lbs.
Participants 12 and under must be accompanied on the tour by an adult.
Tours are limited to 8 people to reserve for a larger group please call our office at (614) 847-9477.
Please review our Participant Requirements prior to booking.
On Night Flight Tours, darkness and moon viewing depend on tour times and weather.